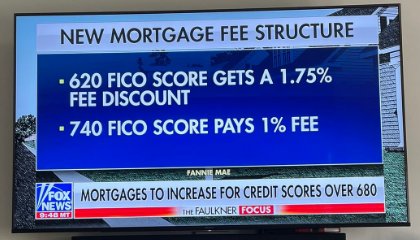 Misleading Report on Mortgage Fee Structure
Have you come across this image?
It is highly misleading, and in this post, I will explain the truth behind it.
The main point is that having a 740 FICO score does not mean you have to pay a 1% fee. If you have good credit, you will not be required to write a check for 1% to anyone. Similarly, a 620 FICO score does not receive a "1.75% fee discount."
This story refers to an industry term called "Loan Level Price Adjustments" (LLPA). LLPAs are used to determine the pricing of a loan based on the borrower's risk or the overall structure of the loan. Simply put, more risk leads to more LLPAs, while less risk results in fewer LLPAs. Does that make sense?
The Federal Housing Finance Agency (FHFA), which oversees Fannie Mae and Freddie Mac, announced these LLPA changes in January. Banks had already factored these adjustments into their rates long before the media began spreading these misleading and inaccurate reports.
So, what exactly changed?
Borrowers with lower credit scores will still face more LLPAs compared to those with higher credit scores, but the penalty for "Risk" has been reduced.
On the other hand, borrowers with higher credit scores will still have fewer LLPAs than those with lower credit scores, but the "Reward" has been diminished.
To sum it up: If you have good credit, you will still receive a better interest rate on your mortgage. Therefore, please do not harm your credit based on these misconceptions."
We are mortgage brokers  and our focus is on providing our clients with the best possible mortgage experience.
Apply now and let us help you get preapproved for your mortgage loan.